Smelly Patio?
Patio Cleaner & Deodorizer
Breaks down urine stains & eliminates odors in concrete, stone and artificial turf.
Eco-Friendly
Eliminates Odor
Removes Stains
About This Product
Ingredients
DEIONIZED WATER, BIOKORE™ (PLANT-BASED SURFACTANT), BIODEGRADEABLE MOLECULAR COMPLEX (MINERAL-BASED DEODORIZER), PLANT-BASED FRAGRANCE
Use
Saturate soiled area and 1-2" perimeter with product until you see some sudsing action. Wait 5 minutes, then wash away with a hose until the water runs clear and bubble-free. (Use a stiff bristle brush to loosen dirt if needed.) A second application may be necessary for dried and stubborn stains.
Great For
Keeping the great outdoors smelling great!
Removes: Stains and odor from urine, feces, vomit, mud, grease & more.
Safe Surfaces: Concrete, stone, artificial turf, outdoor furniture and other water-safe surfaces.
Not Recommended For: Natural surfaces and live plants.
Available Size(s): 35oz
What People Have to Say
Customer Reviews
Write a Review
Ask a Question
09/20/2020
Jodi S.
United States
Great Product
I bought it for my cement floor in my basement because I had my 14 yr old dog down there when we was at work with pee pads and she had a dog bed down in the basement and she didn't pee on that. She gotten diagnosed with kidney disease in July. Sometimes she would go on the pads and sometimes she didn't and I used he urine destroyer and stain and odor and that helped well and I started to have a smell in my basement and the floor was getting sticky because by the time I got off work some of the pee spots was dried. So I called Skout's Honor and I talked to Tom and told him what happened and he told me what to do and it took the smell out of my cement floor. Thank you Skout's Honor for the great products that I have used.
08/31/2020
Marina T.
United States
Effective and fast
Effective and fast. So easy to spot clean instead of having to pull out the hose. Great way to keep area clean and smell-free.
07/26/2020
Brett K.
United States
Wonderful
I love it. Ordered more right away.
06/02/2020
Julie M.
United States
Love this Patio cleaner
We use it as our backyard is small and is all stamped concrete. When the dog goes to the bathroom on the patio, this spray cleans it up and makes it smell so nice. Maybe there is a large refill jug size that I'm not aware of. I would love that because that's what we need with a concrete back yard and a large 90 pound dog that always like to save a bit of his urine for the backyard. The fact I would like more of it, expresses how much we love this spray.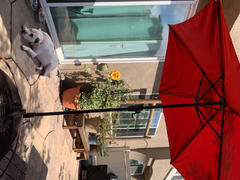 Hi Julie, We don't have a gallon of the Patio Cleaner, but you can use our Gallon Urine Destroyer as a refill as it will do the same thing for you! Hope that helps and let me know if you have any other questions! Thanks, Elyse, Skout's Honor
04/08/2020
Anne I.
United States
Patio cleaner & Deodorizer
I absolutely love this product , the best I've ever used . Thank you for a great product & customer service